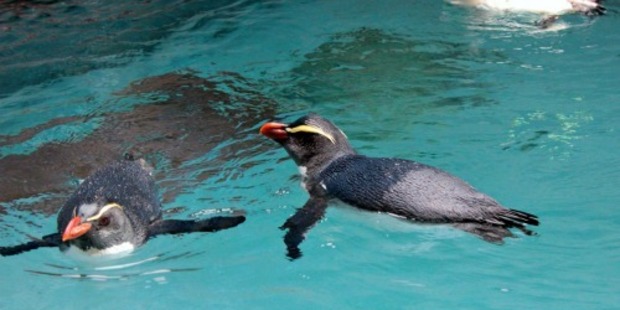 An endangered penguin has been returned to the wild after being treated for abdominal wounds at Wellington Zoo.
Louie the Fiordland crested penguin or tawaki has been returned to the West Coast of the South Island after he was found wounded on the same stretch of coastline as three other Tawaki. They were all found within three days of each other.
The penguins were originally found and cared for by the West Coast Penguin Trust, then flown to Wellington to receive further treatment at The Nest Te Kohanga.
Louie and another penguin, Danny, were treated for abdominal wounds, while another penguin named Wedgie is still receiving treatment for a flipper wound.
It is not known how the penguins were injured, a Wellington Zoo spokesperson said.
Three of the four tawaki are recovering well and are expected to return to the wild in the next two weeks.
Wedgie and Danny must remain at The Nest Te Kohanga until they regain their waterproofing.
The waterproofing assessment involves the birds swimming in a salt water pool for four to six hours a day under supervision. Their feathers are then assessed to monitor how waterproof they are.
Meanwhile, the remaining penguin, Alex, is still recovering from an injured jaw. The wound around Alex's mouth is healing well, but Alex's beak started to scissor and cross over the tip, the spokeperson said.
Carers are correcting his beak.
"The outcome for the four tawaki is positive at this stage and we really hope that we can release all four of them back to the wild. Returning sea birds back to the wild is an important part of what we do at The Next Te Kohanga as it contributes to the ongoing conservation efforts of nationally endangered species, like the tawaki," the spokesperson said.
"During this time of the year we see a lot of penguins coming through to The Nest Te Kōhanga. We ask that the community keeps their dogs on a lead while out along the coastline to help protect our native sea birds that may be nesting in the area."