---
Cape Town - Oiled penguins are rolling in – but the surveillance aircraft cannot pinpoint any oil slick.
It is thought the oil must be coming from the wreck of the Seli 1, but in small amounts not visible from the aircraft.

As the number of oiled birds continues to rise, experts believe many more birds have died at sea. At least two heavily oiled penguins have been found dead on Robben Island.

Of the 219 oiled birds found since the beginning of the month, 218 are endangered African penguins.
Southern African Foundation for the Conservation of Coastal Birds (Sanccob) head Venessa Strauss said on Tuesday: "They're still catching them on Robben Island, freshly oiled. There is no indication of where the oil is coming from. I can't say for certain the Seli 1 is still leaking, but I can say there is still oil in the ocean. I think it probably is from the Seli, but in small amounts so you can't see it from the air. The penguins are having a tough time."

The Environment Department's surveillance aircraft K9 flew over the sea every day last week and did not report any oil slicks. Strauss said the oiled penguins that were coming in were between 10 percent and 40 percent covered in oil.

"We haven't seen any birds 100 percent oiled except those two dead birds. I think this shows that the ones that are completely covered don't make it back to land. They die at sea." This indicated that the real number of birds affected by the oil slick was probably far higher.

The wrecked Seli 1 caused an extensive oil slick in Table Bay when remnants of fuel from its submerged tanks leaked out in a storm on September 1, polluting the Table Bay coastline up to Dolphin Beach.
Table Bay is one of the main feeding grounds for seabirds from Robben Island and the West Coast National Park.

Nola Parsons, the foundation's vet, led a team of volunteers and researchers on Robben Island over the weekend to search for oiled birds and identify chicks that had been abandoned because their parents were oiled.
Oiled birds lose their natural waterproofing, so don't go to sea and eventually starve.

"Checking birds in the colony is time-consuming and takes many people to check every bush and burrow. We are a little bruised and battered with some sore bodies, but happy that we were able to help the dedicated researchers that have been doing this all week," Parsons said.

In 2010 the International Union for the Conservation of Nature's Red Data list classified the African penguin as endangered because populations were rapidly declining. Just seven islands support 80 percent of the global population. The union attributes the penguins' decline to food shortages, both because of use of large amounts of fish caught commercially and the eastward shift of their main food sources of anchovy and sardines.

It described penguin deaths from oil spills as a serious threat, adding that there had been "a dramatic increase in the number of oiled birds since 1990". - Cape Times
source
~~~~~~~~~~~~~~~~~~~~~~~~~~~~~~~~~~~~~~~~~~~~~~~~~~~~~~~~~~~~~~~~~~~~~~~~~
Hotel for penguins opens in South Africa
Wednesday, September 12, 2012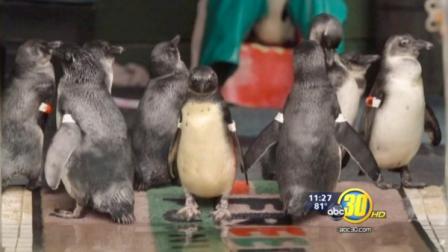 A new five-star hotel is open offering luxury swimming pools and all-you-can-eat fish dinners, but it's for penguins only.
The hotel is located in South Africa. It's part of the country's efforts to save the African penguin from extinction.
Hotel workers take care of birds that may have medical conditions and get them ready to be released back into the wild. The hotel is not only about saving penguins, but also about helping to preserve marine life.
source