By Westport News
Friday Oct 5, 2012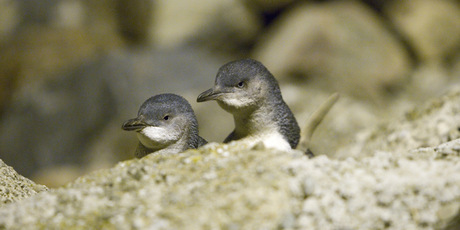 A substantial new penguin colony has been found on the West Coast.
The West Coast Blue Penguin Trust's latest survey made the find near Perfect Strangers Beach, north of Punakaiki, famed for its pancake rocks.
The bay where the colony was found was hard to get to, making it the perfect place for blue penguins to thrive, said trust ranger Reuben Lane.
"The bay is a very well protected fortress, ringed by cliffs and nikau palms and it was exciting to find a significant number of penguins making the area home," said Mr Lane.
More than 60 volunteers took part in the annual census from August 1-5. They found some 550 sets of penguin prints, compared to around 510 last year.
The largest colonies were around Carters Beach, Charleston, Punakaiki, Paroa and Okarito.
Despite the massacre of 15 blue penguins by dogs at Siberia Bay, Cape Foulwind earlier in the year, surveyors were delighted to find four sets of prints in the bay.
Trust co-ordinator Inger Perkins said this was remarkable.
"We want to reiterate to dog owners in the area it is essential they don't let their dogs roam so we can protect the few penguins that remain," Ms Perkins said.
source