Thu 18 Jul 2013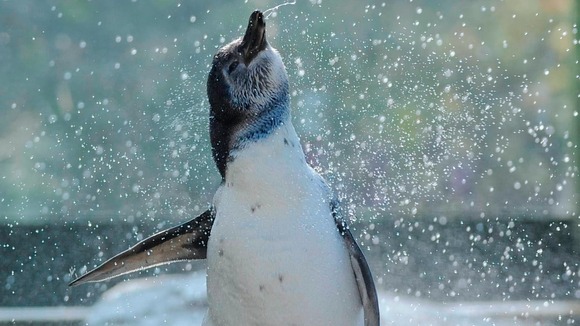 A baby penguin has enjoyed its first cooling swim after sitting out the heatwave waiting patiently for its feathers to grow.
The sweltering chick has got its fully water-proof adult plumage just as the thermometer nudged 30-degrees at the Scarborough Sea Life Centre.
Born on May 4th to first-time parents Mavis and Nestor, the newest member of the Centre's Humboldt penguin colony is the sixth baby penguin born there.
"We were lucky enough to witness his first swim,"
said displays supervisor Lyndsey Crawford.
"He stretched out his wings and seemed to be inspecting them. Then he teetered on the edge of the pool for a few minutes as if unsure whether to go for it or not
.
"Then he dived in beak first and started jetting around underwater with all the grace and agility of the older birds.
"You could say he took to it like a penguin to water!"
Lyndsey and her colleagues have also set up a shower for the penguins, helping them stay cool when resting out of the water.
"The new chick seems to enjoy the spray just as much as having a swim,"
said Lyndsey.
"It lends a whole new meaning to the term 'baby shower.'"
source