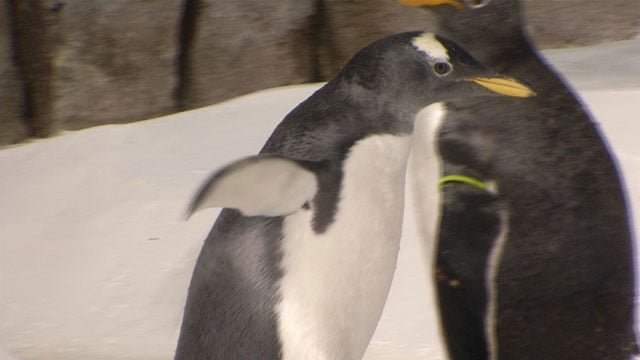 The two Gentoo penquin chicks waddled their way back to their exhibit for the first time since they hatched almost three months ago.
Posted: Mar 04, 2015
By Chris Oberholtz, Multimedia Producer
The baby penguins are growing up fast, and they are back on display at the Kansas City Zoo.
In mid-December, the Kansas City Zoo welcomed in two baby penguins.
The two Gentoo penguin chicks waddled their way back to their exhibit on Wednesday after being hidden away for a time. "Both of the birds were hatched on exhibit. We basically kept them with their parents until we got to a certain point. Once we got to having them at a certain age, we pulled them back and had to get them used to being fed by the keepers," said Sean Putney, director of living collections.
But they are chicks no more. They now weigh in at 11.9 and 13.8 pounds, a far cry from their 3.5 ounce birth weight. "They have to grow extremely quickly when you're a penguin. Otherwise, you won't make it in the real world. So they grow quite quickly. They have to gain 10-20 percent of their body weight on a daily basis in order to get to this point," Putney.
So, they have already molted, shed their down and grown in their adult, waterproof feathers. And, it didn't take long to get their flippers wet.
Next, they'll need to learn to hand-feed from the keepers, like the rest of the flock. "As you can see, it was pretty eventful, comical at times, and even though they are a touch smaller than the other penguins in there, they are still having a little bit of a tough time. But it went pretty well for their first time," Putney said.
Gentoos are the third largest of the penguin species primarily found in the Antarctic Islands.
But, you can visit these two yet unnamed chicks every day at the Kansas City Zoo, which is open from 9:30 a.m. to 4 p.m.