The yellow-eyed penguin/hoiho breeding season is looking bleak again this year, with nest numbers reaching their lowest in 25 years.
The Department of Conservation, the Yellow-eyed Penguin Trust and key groups involved with penguin monitoring have been counting nests for the past month.
The results of this indicate nest numbers across Otago-Southland have dropped from 491 pairs in 2012 to just 160 counted so far this season. Some sites are still to be searched but numbers will probably not exceed 190 pairs.
DOC coastal otago biodiversity ranger Mel Young said "what we are seeing on the mainland is a significant reduction in breeding stocks, with negligible recruitment of young birds."
Stakeholders would work closely together during the coming months to manage and mitigate detrimental events affecting hōiho survival throughout the breeding season, she said.
Patrolling of monitoring areas would be increased throughout the season to ensure penguins were in good condition. Underweight or injured birds would be removed for treatment and rehabilitation.
Breeding adults, whose survival is essential for population stability, have been hardest hit during the past three years by several events. These included an unexplained mass mortality assumed to be from a toxic marine-based agent, widespread starvation of adults, juveniles and chicks, outbreaks of avian diphtheria in chicks, and high rates of barracouta attacks.
"The cumulative nature of multiple mass mortalities is coming home to roost. Every bird is important, and we are doing our utmost at each site," Young said.
Trust general manager Sue Murray said the long-awaited good breeding season had not happened and the repeated poor breeding seasons had major management implications.
The trust would be be part of the collaborative effort with staff and volunteers regularly checking beaches for sign of any distressed birds and monitoring nest sites, she said.
One positive was that on Codfish Island/Whenua Hou, nest numbers were one up on last year with 33 nests found, however it could have limited impact on breeding.
"Finding a chick marked from the 2011/12 season is the first evidence of recruitment since the 2007/08 season, but it is insufficient to keep up with normal mortality rates. No juveniles have been seen, so none of last year's chicks are likely to enter the future breeding population."
Codfish Island was a predator-free island, but the trust had observed significant declines in this region. Numbers had decreased from 61 breeding pairs in 2001 to the 32 found both last and now this season, Murray said.
As well as DOC and the trust, other parties involved are Penguin Rescue, Penguin Place, Southland Forest and Bird, Otago University, landowners, local Runanga and volunteers.
source
**********************************************************************************
New Zealand: Concern for 'world's rarest penguin'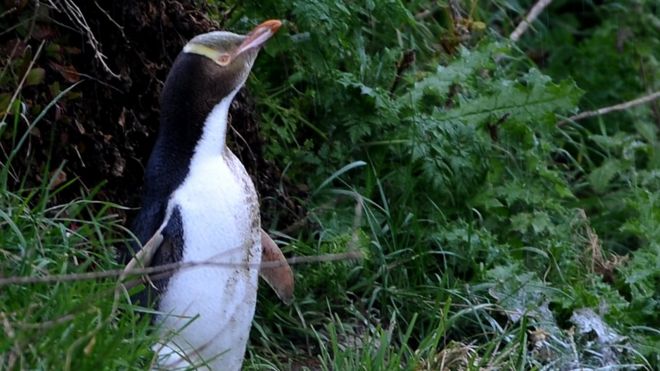 Conservationists in New Zealand say nest numbers for one of the world's most endangered penguins have plummeted to a 25-year low.
The yellow-eyed penguin is native to the country's south-eastern coastal regions, but environmental officials say this year's breeding season is "looking bleak" because of a sharp decline in breeding pairs. Only 160 pairs have been spotted so far, compared to 491 pairs in 2012,
the 3 News website reports
. The Department of Conservation (DOC) says some sites still need to be checked, but that the total number is unlikely rise above 190 breeding pairs.
Often referred to as the
world's rarest penguin
, the birds have faced a host of challenges in recent years, including repeated outbreaks of avian diphtheria, starvation and an unusually high rate of
barracuda attacks
.
In 2013, more than 70 of the species died in unexplained circumstances, thought to be related to a toxic agent,
Radio New Zealand International reports
. "The sad thing is now we are seeing the flow-on effect from that," says Brett Gartrell from Massey University, which tested the dead penguins for toxins. "There aren't a lot of birds around to breed at the moment - and that's what the yellow-eyed population desperately needs."
The DOC says it will work in collaboration with penguin conservation groups to protect the birds that are breeding this season, with increased beach patrols to help any penguins in distress.
source