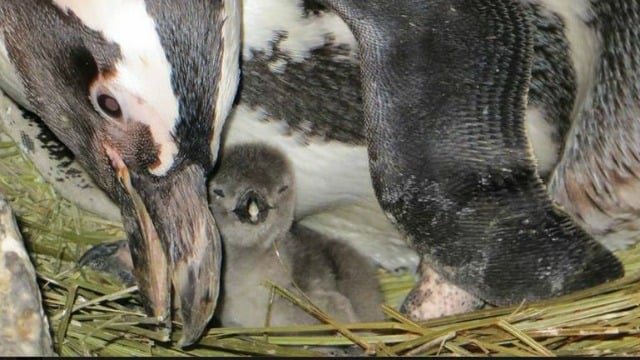 Photo courtesy of Georgia Aquarium
Penguin nursery on display at Georgia Aquarium
Posted: Jan 17, 2014
ATLANTA (CBS ATLANTA) -
Baby penguins are expected to draw big crowds this weekend at Georgia Aquarium, as the facility's penguin nursery goes on display for the first time. The brand new penguin nursery space, officially known as the Georgia-Pacific Penguin Nursery, currently contains penguin eggs in an incubator and eventually will have penguin chicks being weaned by animal care specialists.
So far this year, the Aquarium has welcomed multiple African penguin chicks, which are currently on exhibit. The first chick hatched on Dec. 28. More chicks are expected to hatch throughout the months of January and February to total more than six chicks for 2014.
Starting this weekend, guests who take part in behind-the-scenes tours such as Quick Dip and Sea Keepers Tour will have the opportunity to see the penguin nursery for themselves. This weekend, Jan. 18-20 from 11 a.m. to 2 p.m., the aquarium will host an event called "Party with the Penguins" in celebration of Penguin Awareness Day.
Guests are encouraged to dress in their finest clothes, mimicking the tuxedo-like look of the penguins. The Waddle Walk is a contest that allows kids to act like a penguin. Prizes will be awarded.
Click
here
for details.
source
~~~~~~~~~~~~~~~~~~~~~~~~~~~~~~~~~~~~~~~~~~~~~~~~~~~~~~~~~~~~~~~~~~~~~~~~
New penguins helps KC Zoo set record attendance
Posted:
Friday, January 17, 2014
A record number of people flocked to the Kansas City Zoo last year, in part to see a new penguin exhibit.

Zoo officials say 882,194 people visited the zoo in 2013. About 90,000 of those visitors went to the zoo after the penguin exhibit opened in October.


The Kansas City Star reports (
http://bit.ly/K9HIZH
) the zoo had hoped to attract 835,000 people last year. Attendance in 2012 was 824,218. Zoo attendance peaked at 714,367 in 1998, then declined before rebounding and has been rising steadily since 2006. Zoo officials are hoping to meet the 1 million visitors mark by 2016.
___
Information from: The Kansas City Star,
http://www.kcstar.com
source
~~~~~~~~~~~~~~~~~~~~~~~~~~~~~~~~~~~~~~~~~~~~~~~~~~~~~~~~~~~~~~~~~~~~~~~~
Penguin Walk returns at Calgary Zoo
Lucas Meyer
It's back!
The Calgary Zoo Penguin Walk kicked off Friday morning, with seven king penguins taking a short stroll outside their habitat.
The Zoo's Trish Exton-Parder said the route is a little different from last year.
"They come out of the back of the building as they did last year," she said. "It'a a little shorter than last year, but still, again people can see it absolutely every day. They come up through the path way and then basically around the bulding and then back into the front of the outdoor exhibit." Exton-Parder added it's believed to be the only penguin walk in the country.
The daily trek will go on as long as the weather co-operates.
source