Penguin keeper, of course!
The job:
Feeding and looking after the penguins at a zoo
Salary:
£16,000-£22,000 a year
Workwear:
Shorts, short-sleeved shirts, hats and boots
You'll wish you were doing it because …
"You feel like you're on a holiday resort, only with penguins," says Adrian Walls, head bird keeper at
Penguin Beach at ZSL London Zoo
. "It's a unique place to work." Every day he heads straight for the zoo's beach – not far from the centre of London – to give the penguins their breakfast. "On a hot day they'll sit on the beach and sunbathe, then cool off in the super huge pool. Penguins are like little people, each has got its own character. We get to know them all individually."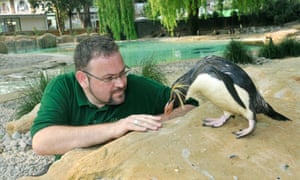 To make sure that even on the hottest day of the year the temperature never rises above 30C, huge fans blow a breeze around the beach and jets of evaporated water are squirted into the air to create a constant cooling mist. "It's the best job in the world on a hot day – and if you really want to cool down you can always find an excuse to go for a dip in the pool with the penguins."
Any downsides on a hot day?
"Going home smelling of the fish we feed the penguins," Walls says. "It makes you very attractive on a hot tube train."
source