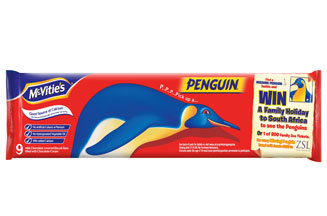 McVitie's Penguin backs Zoological Society climate-change research
By Gemma Charles, marketingmagazine.co.uk, 11 February 2009, 09:15am
LONDON - McVitie's Penguin has signed a deal with the Zoological Society of London (ZSL) to help fund an expedition to Antarctica to research how climate change is affecting penguins.
The brand will market the tie-up through a 12-week promotion on packs of Penguin biscuit bars, cake bars and mini rolls starting this month. McVitie's Penguin will donate up to £50,000 to the ZSL, which will be used to send 'Penguinologist' Tom Hart to visit remote regions of Antarctica, home to millions of the birds.
The on-pack activity, created by Billington Cartmell, includes a competition offering the chance to win a family holiday to South Africa to view penguins in their natural habitat. Other prizes include 200 family tickets to London and Whipsnade Zoos.
Nick Stuart, the commercial manager of McVitie's owner, United Biscuits UK, said: 'The partnership with ZSL is a perfect fit with the Penguin brand and will help scientists understand how climate change is threatening the penguins' habitat in Antarctica.'
The ZSL is promoting the project on its website.
Story courtesy of Marketing Magazine @
http://www.marketingmagazine.co.uk/news/880176/Chocolate-bar-McVities-Penguin-climate-change-promotion/