Ingenious, heart-rending...this was the wildlife tale of the year: CHRISTOPHER STEVENS reviews last night's TV
Snow Chick: A Penguin's Tale
Spare a thought for film-maker Frederique Olivier and her assistant Martin Passingham, who gave up a chance to go home for Christmas after almost a year in the Antarctic so that we could enjoy the most adorable documentary of the festive season.
The duo were camped 60 miles from the coast, beyond the reach of any rescue plane or helicopter, surviving in blizzard conditions and temperatures as low as minus 60C.
And they weren't even allowed to get within 20 yards of their subjects: the emperor penguin breeding colony they were studying is protected by strict international law.
Adorable: A shot featuring one of the stars of Snow Chick: A Penguin's Tale, a BBC 1 wildlife documentary
Survival: The baby penguin, pictured in Snow Chick, had a tough fight to stay alive in its harsh Antarctic habitat
But they had ingenious technology on their side, with cameras hidden in rocks or disguised as penguin chicks, and one operated by remote control that resembled a full-size bird, sliding about on its belly.
Their aim was to document every stage of the breeding cycle for a unique programme that would eventually be broadcast as Spy In The Huddle.
As they collected and studied the footage each week, though, another story began to take shape. One of the eggs hatched late, and the chick was much smaller than all the others. Frederique and Martin gave it a name — they dubbed it Snow Chick.
Snow Chick: Penguin's Tale (BBC 1) was a story of survival against impossible odds. But if your heart was in your mouth as you watched the chick being attacked by a killer petrel, smothered by broody females, or lost and freezing to death outside the colony, imagine how Frederique and Martin must have felt.
When I interviewed Snow Chick producer John Downer earlier this month, he explained there was nothing the film crew could do to protect the tiny bird.
They were not allowed to approach, and they had no food to give it: penguin chicks eat pre-digested fish, regurgitated by their parents. 'You can't adopt a penguin,' said John, 'or try to save it, because it won't survive without its mother.'
Thankfully, the chick did survive. But while he was bursting with courage and resilience, he and his nursery mates were sadly short on intelligence. Penguins are birds of notoriously little brain, and they are not good communicators.
When Snow Chick's parents left the colony and headed for the sea, they didn't tell junior that they weren't coming back. They simply left him to work it out.
Safe Distance: The crew had to stay away from the baby penguin, pictured, no matter what the situation
Dedication: Film makers Frederique Olivier and Martin Passingham spent almost a year filming in the Antarctic
The film-makers thought that the little penguins would realise within a day or two that something was wrong, and go in search of food.
When that happened, the humans could fire up their snowmobiles too and head for home, in time for Christmas.
But the babies waited for four weeks, until they were half-dead from hunger — and Frederique and Martin had missed any chance of a turkey dinner.
You could hardly have blamed them if they'd decided to roast a penguin instead, though any wildlife photographer would of course be horrified by the very idea.
Thank goodness they stayed. This was a wonderful piece of story-telling, and my personal favourite wildlife documentary of the year.
source
*****************************************************************************
Snow Chick: A Penguin's Tale, TV review: Small, fluffy and perfectly formed
The BBC documentary was narrated by Kate Winslet and followed the early stages of an Emperor penguin's life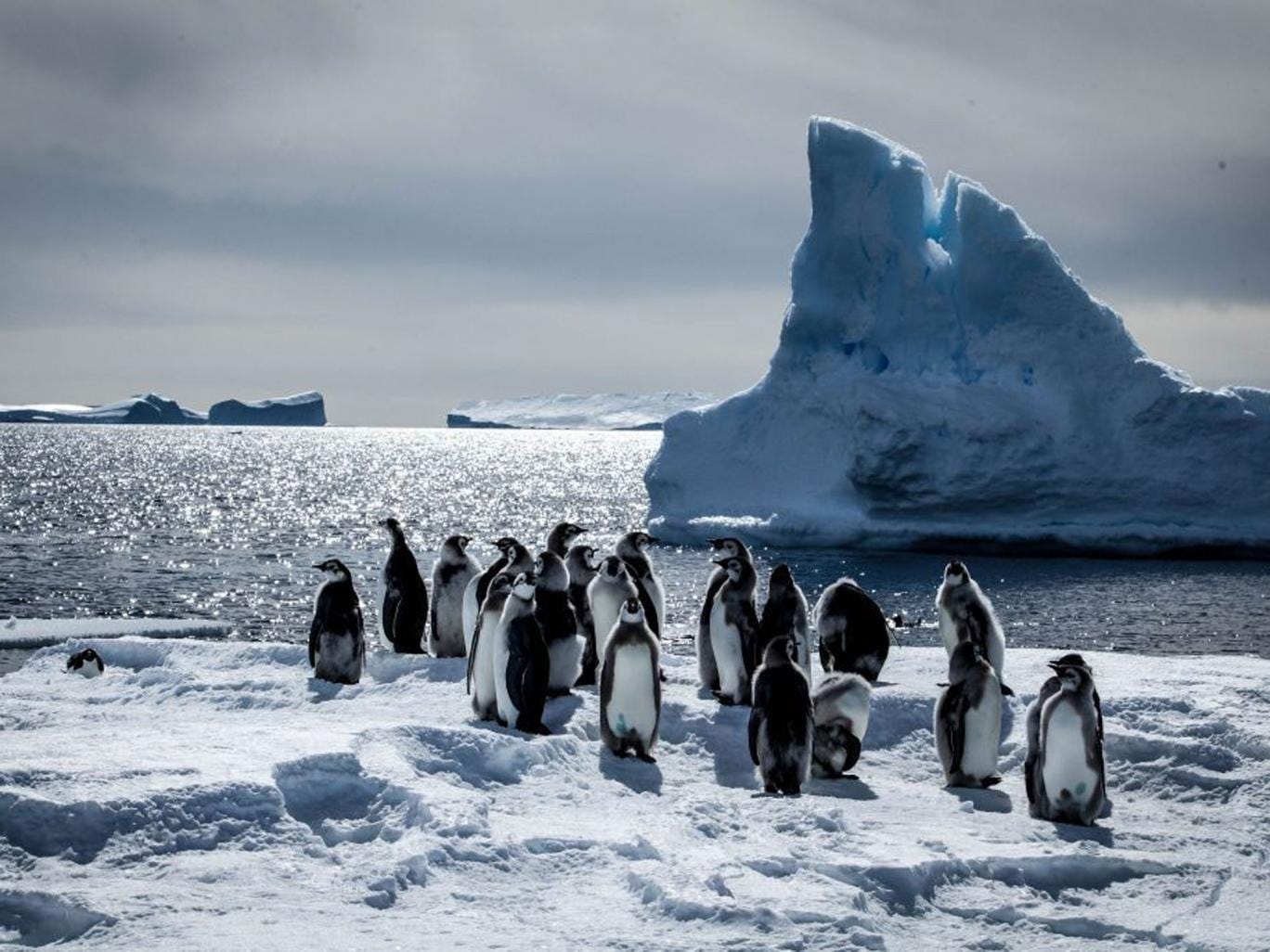 Following the early stages of an Emperor penguin's life, t
he BBC's
sweet and (sort of) festive
documentary could melt a heart as cold as the -60C temperatures Snow Chick was being raised in.
Last to hatch, the tiny chick had more to overcome than most and remarkable footage showed him being elbowed out of the baby huddle for being too small.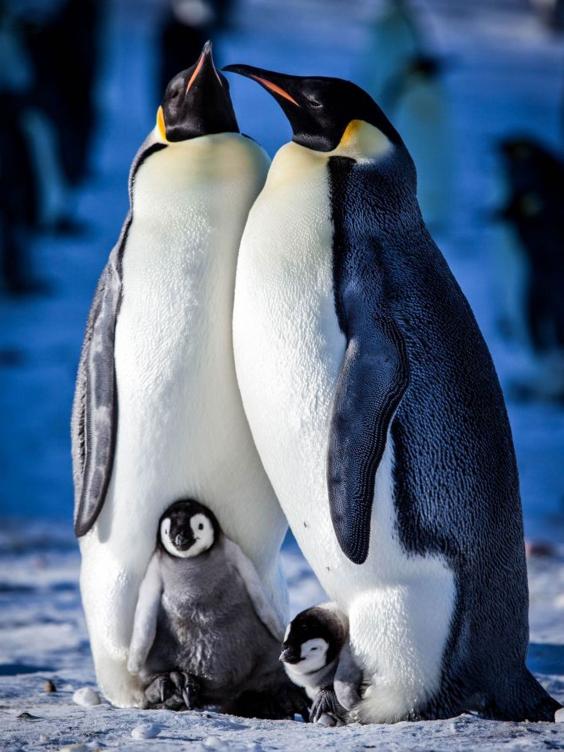 Narrated by Kate Winslet, this was no challenger to March of the Penguins and neither did it teach us anything David Attenborough probably hasn't a thousand times already.
But with eye-wateringly close footage of picture-perfect babies, touching reunions between proud parents and daring escapes from the jaws of death (in the guise of a leopard seal) it was impossible not to be transfixed.
Snow Chick was so small, fluffy and perfectly formed he could have come straight off the shelf at London Zoo's gift shop and scenes of his father successfully wrestling him free from a group of broody, childless females were heartbreaking. Forget Christmas, this was a show that was truly special whatever time of year it aired.
source
********************************************************************************
5 times Snow Chick: A Penguin's Tale was too cute to handle
Snow Chick: A Penguin's Tale had it all – laughs, tears, drama and a lot of very, very cute animals falling over and being adorable.
The story of one tiny Emperor penguin and its struggle to survive in Antarctica, which was broadcast tonight on BBC1, was a rollercoaster of emotions.
Producer John Downer said: 'For this tiny creature to survive in the most brutal conditions on Earth is a true adventure.'
Viewers were hooked on the heart-warming drama, which was beautifully narrated by Oscar winner Kate Winslet, with many demanding one for Christmas.
Please, Santa! We've been good this year.
Here are 15 times the show was just too damn cute to cope with.
When they were just embryo penguins
When they hatched. Aww…
When these little guys were just chilling with the 'rents
When this one played peekaboo
When they played penguin rugby
When they all bonded and became cuddly BFFs
When this dude said 'hello'
When mamma penguin gave her kid a tasty snack
When the babies and adults all chilled together
But this guy was, like, super chill
When they stacked it
When this dude showed up
When Snow Chick saved himself after falling in the water. D'oh!
When he realised it was OK to go back into the water
And so did everyone else