KCTV5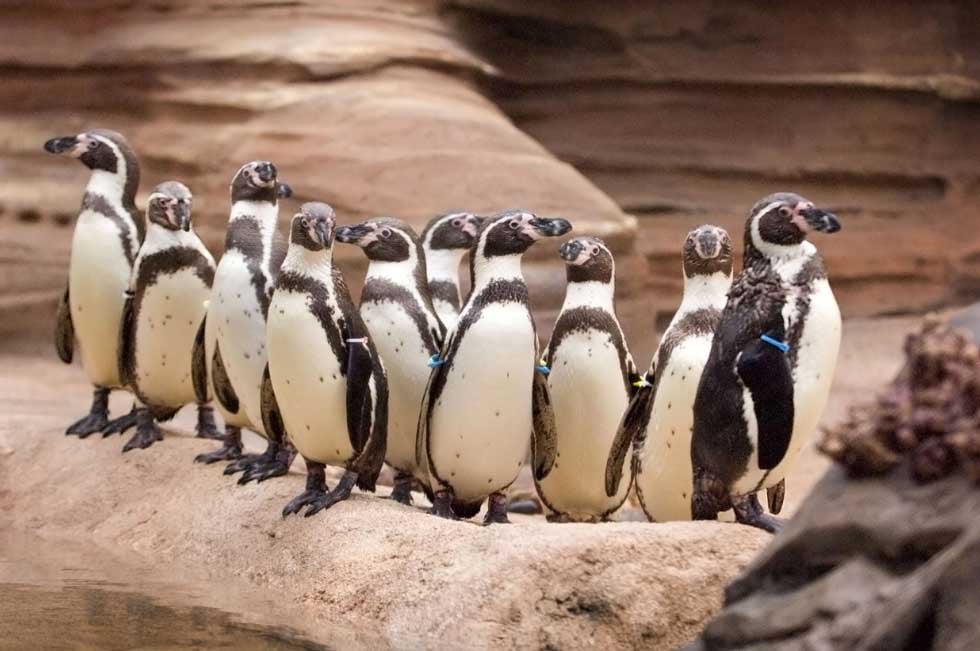 T
here were three VIPS who waddled into Kansas City on Thursday to great fanfare. The Very Important Penguins traveled via van in animal cages from the Sedgwick County Zoo to the Kansas City Zoo. The van arrived just after 5 p.m. Thursday, Sept. 26.
Posted: Oct 04, 2013
By Emily Rittman, News Reporter
KANSAS CITY, MO (KCTV) -
The Kansas City Zoo is still putting final touches on the Helzberg Penguin Plaza, but soon about 50 penguins will move into the large tanks. The three latest additions to the zoo are Humboldt penguins that were staying at a zoo in Wichita. "One was named Vito, and one was named Monster. That might have to be their Wichita names. We may have to get them some good Kansas City names," Kansas City Zoo Director Randy Wisthoff said.
The zoo's most complex and elaborate new $15 million exhibit is expected to open in late October. It includes an underwater, indoor saltwater tank that will be chilled to the perfect 42-degree temperature penguins prefer. "Kings are about 3' tall, Gentoo are 18" to 20", and rockhoppers are kind of little bitty guys, 12" to maybe 14" tall," Wisthoff said.
Humboldt penguins will call a 25,000 gallon indoor/outdoor salt water tank home. "They are a bird that needs our help. We've joined a consortium to try and help those birds in their native Peru habitat," Wisthoff said.
The exhibit includes three fish tanks including a cylinder tank filled with schooling fish that will greet visitors when they enter. The underwater viewing area will also give visitors a chance to get close to the birds. "We created some fun little landing areas. The smaller penguins come up out of the water and land on their feet," Wisthoff said.
The exhibit will give a glimpse into what life is like in the Antarctic. Two snow machines will keep the birds cool. Visitors might also catch a glimpse of zookeepers feeding the penguins. "They eat the fish whole. They always eat the fish head first. They just swallow it because they don't have teeth," Wisthoff said.
The entire project is about three years in the making. Wisthoff said the wait is worth it. "They are a crowd pleasure. They are just fun. They're cute. It is really fun to see them swimming underwater - they are little torpedoes. We've created in our big exhibit here some places they can swim in between the icebergs. We may have penguins swimming this way and that way," he said.
Once the construction is complete they will have to thoroughly clean the tanks and test their life support systems. They will use three different kinds of filtration to make sure the salt water tanks are set to the right temperatures.
The zoo will hold their 10th annual Kansas City Zoo Run, the Run for the Penguins, on Saturday. The 4-mile run/walk begins at 8:30 a.m., and the 1-mile family fun run starts at 9:45 a.m. The money raised this year will support the Center for Conservation of the Humboldt Penguin in Punta San Juan, Peru. You can find more information
here
.
source