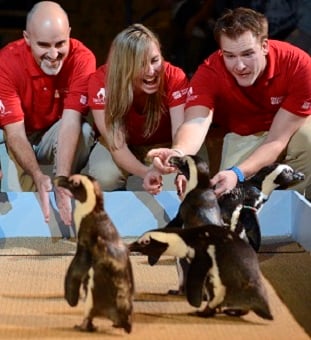 Posted: Oct 20, 2013
By Alana Cerrone
Almost 1,000 people (and penguins) came out to join in the Annual Penguin Run/Walk at Mystic Aquarium in Connecticut Saturday.
Participants ran, or walked, through a trail, field and road course to raise money for the endangered African penguin.
Following the run/walk, the penguins did a waddle of their own in the Penguin race right in the Mystic Aquarium Marine Theater.
The Aquarium says that wild populations of African Penguins have shown a 70% decline in just 10 years. A major threat to their survival is the lack of anchovies and sardines in the penguins' scavenging areas.
source