Monday Apr 28, 2014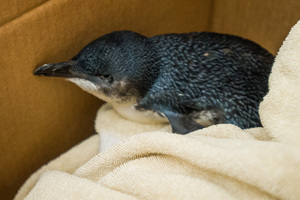 Just how the bird made it to land is a mystery. Photo / Jason Dorday
The little blue penguin found wandering on an Auckland road has been transferred to a vet clinic after throwing up its food.
The penguin had been recovering at the NZ Bird Rescue Charitable Trust in Green Bay after being found on Shore Rd, Remuera, about 4am on Sunday.
Rescue centre founder Lyn McDonald said the little bird was being fed a specialised diet through a tube, as penguins dislike eating food they haven't caught.
It had taken in four or five feeds, but had now started throwing up. "I've just made a phone call now to get him off to the vet,'' she said. "He's very, very thin and it can get a bit dicey when they're thin,'' she said.
The penguin was rescued by 21-year-olds Mari Taylor and Jess Harris who found him on the road on their way home after a night out. It's unknown how he reached Shore Rd, which is close to Hobson Bay but across a major arterial road and raised rail line from open water.
source