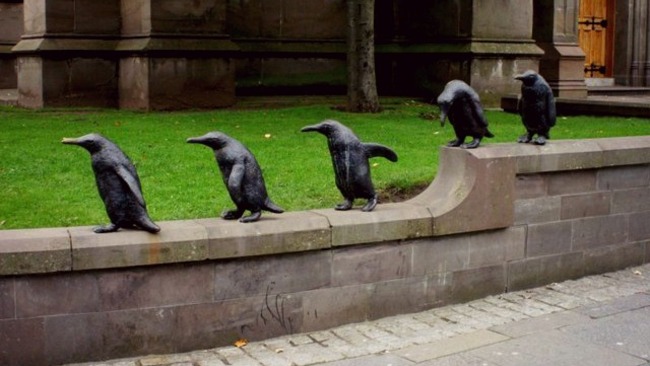 Get up close and personal with a 100 year old penguin who's been hidden away from the public eye for the best part of four decades.
The University of Dundee's D'Arcy Thompson's zoology museum is celebrating Easter this weekend by unveiling a runaway Emperor penguin to its adopted city of Dundee. The cheeky little chap has been here since at least 1900 but went missing in the 1950s before being found frequenting student pubs in the 70s (no, really - it happened).
But the partying took its toll on the little penguin and another brief period of anonymity followed, before it was rediscovered at the McManus galleries earlier this year. Visitors will even get the chance to name the plucky penguin.
Here he is in all his glory:
The photograph above shows the original D'Arcy Thompson museum, where the penguin was held from 1900 until 1950, when it went missing for the first time as the museum was demolished. Thompson was responsible for displaying the penguin and establishing the museum, which shares his name. He was also the city of Dundee's first ever Professor of Biology.
So it seems appropriate, in some ways anyway, that the Biology Society at Dundee University unofficially adopted the stuffed penguin as its mascot (and drinking-buddy) in the 70s. Reputed to be a regular at numerous student haunts, the penguin felt the effect of years of boozing and was sent off to be restored but was forgotten about instead.
Matthew Jarron, curator of museum services at the university, is excited about returning the penguin to its former home. "Stories have been told about the penguin accompanying students on nights out and, inevitably, its condition deteriorated," he said. "At some point in the 1980s the penguin was sent to the old natural history museum at Barrack Street for treatment. "It was then lost somehow for some 30 years until its rediscovery in what is now the McManus Collections Unit earlier this year. "We have finally been able to have the planned conservation work carried out and our penguin is looking as good as new in its new home in the D'Arcy Thompson Zoology Museum."
Attendees will be able to help name the penguin by entering their favourite into a suggestion box set up beside it. The museum will also be showing its extensive collection of specimens from around the world. There will also be will models, charts and artwork, collected over the years, all relating to the study of animals.
More information on the museum can be obtained by calling 01382 384310. Entry to the museum is free.
source